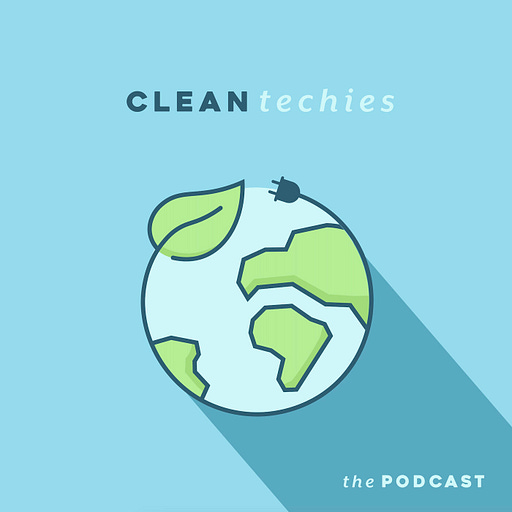 May 17 • 53M
Extracting Precious Metals from Catalytic Converters to Solve Climate Change w/ Greg Pendura (Regenx)
CleanTechies is a Podcast and Newsletter where Silas speaks with Founders and VCs in the ClimateTech space to discuss building and investing in solutions to Climate Change.
In this episode, Silas Mahner (@silasmahner) speaks with the CEO of publicly traded, Regenx, Greg Pendura. Regenx is a metals recycling company recovering precious metals from catalytic converters and selling it on the market or providing the service directly to OEMs.
Greg explains the problem they are solving, how they are solving it, the back story of the company, how they funded the project, and where he sees the future going.
If you dream of a future where everything can be broken down and made into either the same or another product, this is a great episode for you.
Enjoy the Episode! 🌎
📺 👀 Prefer to watch: subscribe on YouTube.
📫 Interested in written summaries and takeaways from the episode? Subscribe to the newsletter.
Want to be part of the community and engage further? Check out the Slack Channel. https://tinyurl.com/mwkn8zk5
-----
Topics:
**1:19 Intro to Greg
**6:03 The Problem
**14:38 The Solution
**17:14 Offtake of the Materials
**21:39 Total Recovery
**24:28 Business Model
**34:22 The R&D Process
**38:58 Funding
**50:54Final Thoughts
-----
Links:
**Connect with Greg: https://www.linkedin.com/in/greg-pendura-301bb01b1/
https://www.regenx.tech/
**Check out our Sponsor, NextWave Partners:
https://www.next-wavepartners.com/
**Follow CleanTechies on LinkedIn: https://www.linkedin.com/company/clean-techies/
**HMU on Twitter: @silasmahner
-----
Other episodes you might enjoy:
From 30% to 90% Li Recovery, Founding a ClimateTech Co, & Talent Moat w/ Teague Egan (EnergyX)
Mineral Availability, Sustainable Mining, & ClimateTech Supply Chain Challenges w/ Nick Rohleder
Endings, Endineering, Circular Economy, & the Customer Experience w/ Joe Macleod
The Future of Clean Energy, Materials/Mfg, & the Circular Economy with Author, Peter Leyden
Cleaning up Steel Production with Boston Metal's Adam Rauwerdink