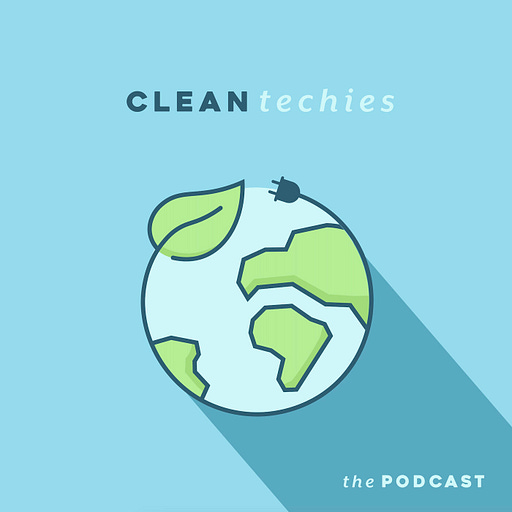 Jun 4 • 59M
#103 - Revolutionizing Takeout: Tackling Plastic Waste Crisis with Reusable Containers and Gamification w/ James Wilson (reUser)
CleanTechies is a Podcast and Newsletter where Silas speaks with Founders and VCs in the ClimateTech space to discuss building and investing in solutions to Climate Change.
Ever wondered how we could tackle the global plastic waste crisis, especially with the increase in takeout packaging during the pandemic? Today, we're thrilled to have James Wilson, founder, and CEO of ReUser, join us to share his innovative solution that focuses on reusable containers for dining institutions. James opens up about his journey in discovering the issue of takeout packaging waste and how it led him to create ReUser.

In our conversation, we explore the challenges associated with sustainable packaging, recycling, and user experience. James emphasizes the importance of understanding human behavior in creating a successful reusable container program, and how ReUser leverages technology to incentivize students to return their containers. We discuss the financial and environmental benefits of reusable containers, highlighting the potential for cost savings and reduced emissions.

As we wrap up, James shares insights into the billion-dollar market opportunity, ReUser's partnerships with reusable container companies, and their goal of becoming the operating system for reuse. We delve into the powerful role that gamification and customer loyalty play in promoting sustainable behavior, and how ReUser aims to expand its reach to other sectors such as hospitals and corporate campuses. Join us for this insightful conversation about an innovative solution to a pressing environmental challenge.
Enjoy the Episode! 🌎
📺 👀 Prefer to watch: subscribe on YouTube.
📫 Interested in written summaries and takeaways from the episode? Subscribe to the newsletter.
Want to be part of the community and engage further? Check out the Slack Channel. https://tinyurl.com/mwkn8zk5
-----
Topics:
0:00 - Cracking the Code on Reusable Containers
6:14 - Solving the Problem of Sustainable Packaging
16:03 - Improving Reusable Takeout Container Return Behavior
24:58 - From Idea to MVP
31:42 - Student Feedback for Business Model Improvement
36:32 - Sustainable Reusable Packaging and Cost Savings
42:32 - Online Incentives for Sustainable Behavior
50:30 - Reusable Packaging's Billion-Dollar Market
57:24 - Promoting Reusable Packaging Adoption
-----
Links:
Connect with James: https://www.linkedin.com/in/james-wilson-3a832b88/
Check out reUser: https://www.reuser.app/
Check out our Sponsor, NextWave Partners:
https://www.next-wavepartners.com/
Join the Slack Channel:  https://cleantechies.slack.com/join/shared_invite/zt-pd2drz6d-N~9nURU5JlyMXv2ZiO5bAQ#/shared-invite/email
Follow CleanTechies on LinkedIn: https://www.linkedin.com/company/clean-techies/
HMU on Twitter: @silasmahner
-----
Other episodes you might enjoy: